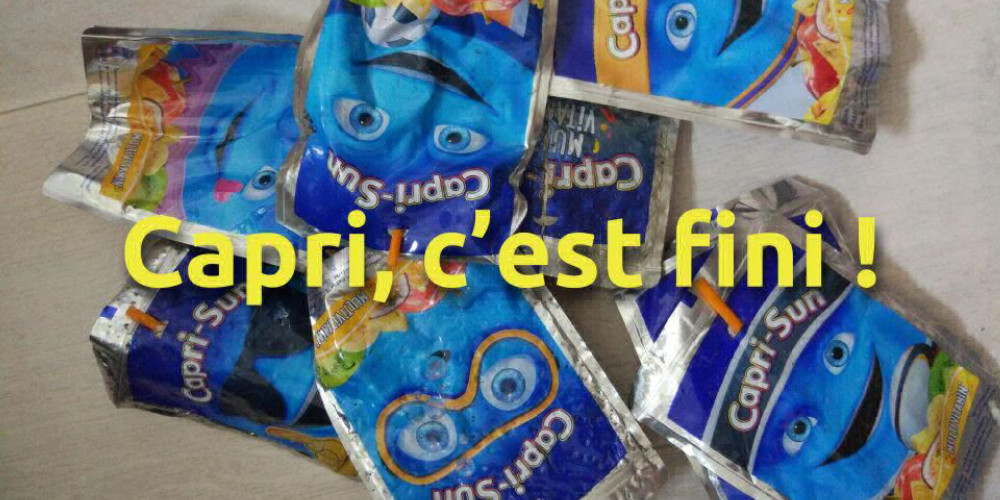 3 282 participant
s
Join the campaign

---
Gathering participants

Launched on 2019-02-10

1st right to reply

Communicated on 2019-02-28

No response for493 days

The company has been informed.
While waiting for the response, the campaign continues !

Boycotters voting

Successful campaign
Description
La marque de soda Capri - Sun a conquis le monde entier et même l'espace ; en effet son emballage a plu à l'Agence Spatiale européenne .. https://www.capri-sun.com
Nous constatons surtout que cet emballage non recyclable fait de plastique, d'aluminium et agrémenté d'une paille provoque des dégâts conséquents dans la nature après utilisation des consommateurs ; en effet son délai de dégradation est de plus de 400 ans et la flore & faune marines sont également impactées ..
Un emballage d'ailleurs valorisé :

"La petite poche pratique et ludique a su se faire une place dans le quotidien de toute la famille" .. et dans l'estomac des animaux
De nombreuses collectes de déchets sauvages contiennent un lot impressionnant de ces produits usagés qui n'ont pas leur place sur nos plages, nos montagnes, nos rivières ..
http://envertetcontretout.ch/2018/09/16/capri-sun-fleau-ecolo-overdose-sucree/
https://www.lejeuneengage.com/actus/caprisun-ou-le-desastre-ecologique
https://www.nrdc.org/experts/darby-hoover/tell-capri-sun-manufacturer-respect-planet-stop-pouch
https://www.environmentalleader.com/2015/05/enviro-groups-put-the-squeeze-on-capri-sun-packaging-waste/
https://www.baslespailles.org/journeesanspaille
Quelques documentaires :
Le Grand Saphir : https://www.facebook.com/legrandsaphirlefilm/videos/213627729395860/
Trashed : https://www.youtube.com/watch?v=OXvNWZ1-07o
A quand un emballage davantage respectueux des normes environnementales alors qu'il y aura plus de plastique que de poissons en 2050 ?
Il est temps de challenger vos employés, ingénieurs et designers pour faire des produits moins nuisibles à l'environnement. Trouvez un substitut à la paille, ou supprimez-la, rendez l'emballage biodégradable, et pourquoi pas imaginez un système de consigne ! Bref, innovez pour remettre des rayons de soleil dans l'avenir de nos enfants.
Quelques alternatives :
https://lespailles.com/paille-biodegradable/paille-en-paille-ble/
https://www.lsa-conso.fr/citeo-experimente-le-compostage-des-emballages-plastiques-bio-sources,306326
https://www.terracycle.fr/fr-FR
CapriSun .. Le plastique c'est fini !
Merci !
The company's response
The threshold required to inform the company has been reached!
To start a constructive dialogue, the company has been informed that a campaign is in progress. All the company responses will be displayed here. All the boycotters will receive an e-mail. They will have the possibility to vote on the campaign page.
Have you found an issue about this campaign or the alternatives? If so send us an alert by clicking here :